New EU ETS Legislation Raises Credit Risk Exposures on European Airlines
A series of new measures announced under the EU ETS, including the incorporation of CORSIA into the scheme and the phase out of free allowances for airlines by 2025 will increase credit risk exposures on airlines operating in Europe. Should banks, aircraft lessors and investors be doing more to price in climate change risk?
MEPs have recently endorsed the European Commission's proposal to introduce an amendment to the EU Emissions Trading System (EU ETS) aviation rulebook to include the ICAO Carbon Offsetting and Reduction Scheme for International Aviation (CORSIA) into the scheme. The proposal provides legal certainty while waiting for the main elements of the CORSIA scheme to be implemented in the revision of the EU ETS for aviation (part of the "Fit for 55" package). The proposal is scheduled to be adopted during the EU Parliament's plenary session in June, enabling final negotiations with member states to take place.
The adoption of CORSIA within the EU ETS rules means airlines will be required to comply with stringent monitoring, reporting and verification (MRV) obligations and the same EU ETS penalty regime of €100 per tonne CO2 in the event of non-compliance. One significant difference between the two systems is that EU ETS runs on an annual compliance cycle whereas CORSIA runs on a three-year compliance cycle and therefore the magnitude of accumulated credit risk exposures and non-compliance penalties under CORSIA is likely to be much greater.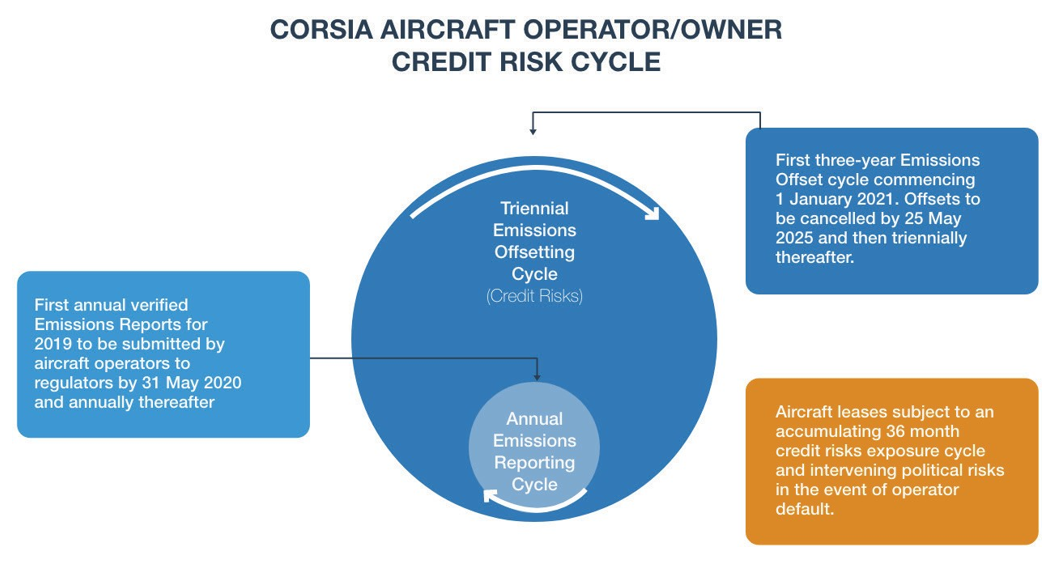 Additionally, the EU Parliament's environmental committee (ENVI) has voted on the planned reform of aviation within the Emissions Trading System. This package is key to pricing the climate impacts of European aviation.
Several changes to the initial proposal include the provisions on the phase out of free allowances for airlines (being the amount of pollution permits airlines receive for free), the scope of emissions covered, non-CO2 effects and use of revenue. The following amendments have been accepted:
Re-integrating departing flights in the EU ETS and deducting the cost of CORSIA on those flights from ETS dues where applicable
Phasing out of free allowances by 2025 after entry into force of the revision as carbon leakage risks are not substantiated
Monitor and price non-CO2 effects of aviation, by requiring the Commission to set up a monitoring system for non-CO2 effects on a flight basis and eventually pricing them under the ETS
Finance the purchase of e-fuels by making 40 million allowances available until 2030
Using ETS revenues to further research and deploy synthetic fuels, zero-emission aircraft and mitigate non-CO2 effects. Some revenue would also go towards international climate funds such as the Green Climate Fund.
The proposed measures will increase the cost of climate change compliance for airlines. The phasing out of free allowances will be particularly harsh as most airlines have historically obtained around 50% of their allowances for free. EU allowances have recently been trading at around €90 (one allowance represents one tonne of CO2) and therefore, the cost of having to purchase all allowances required will be considerable. For example, in 2021 Air France received 1,488,354 free allowances with a current mark-to-market value of around €144m. The proposed phase out of free allowances between 2023 and 2025 will create an additional annual cost burden that will either affect airline profitability or will need to be passed onto passengers.
Non-compliance under ETS and CORSIA by aircraft operators also increases credit risk exposure and contingent liability for aircraft owners and financiers by way potential regulatory fleet liens and powers of seizure, detention and sale.
In summary, aircraft owners should be monitoring climate related credit risk exposures under all emissions trading schemes including EU ETS, UK ETS and CORSIA. Climate risk exposure should also be priced into credit risk assumptions as these are likely to become more onerous as the EU gears up for Fit for 55.
The EU Parliament's proposed legislation to include CORSIA within the EU ETS can be viewed in full at the following link – https://www.europarl.europa.eu/doceo/document/A-9-2022-0145_EN.html
The Platform for Analysing Carbon Emissions (PACE) incorporates an ETS analysis feature which enables airlines, lessors and financiers to model accumulating exposures for all major ETS schemes and conduct scenario analysis to model the impact of changes to utilisation, carbon prices and free allowances to model impact on bottom line.